Marketing360 vs SeoSamba
Marketing360 Review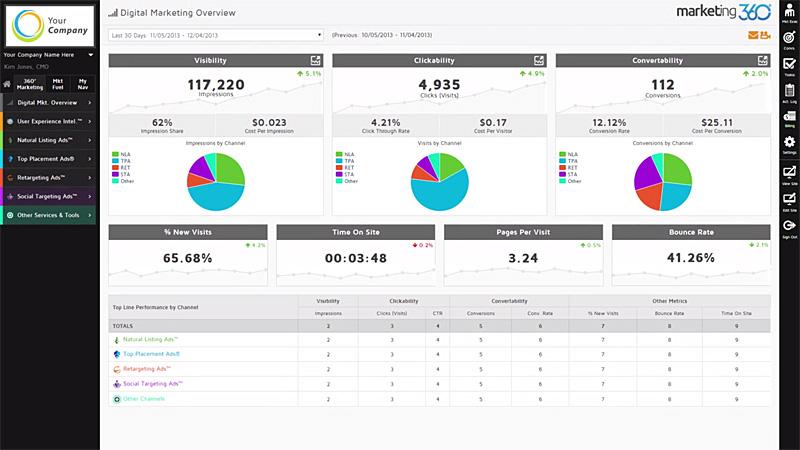 Marketing360 Software Overview
 All-in-one white label online marketing solution
 Strong focus on advertising (CPC, remarketing, social)
No multi-sites management / automated SEO
Marketing360 is an online marketing platform developed by California's web agency MadWire, specialized in multimedia and web design.
Essentially revolving around paid-for-click advertising, Marketing360 also offers various web building options by integrating UXi software within the online platform.
Marketing360 online platform's main area is divided in various sections: Digital Marketing Overview, Natural Listing Ads, Top Placement Ads, Retargeting Ads, Social Targeting Ads and "Other Services & Tools".
---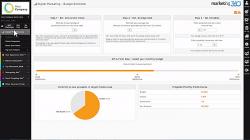 The Digital Marketing Overview section gives an overall glimpse of ongoing online ads visibility (cost per impression), clickability (click through rate) and convertability (conversion rates).
On the main menu, users define various goal-setting variables to help with sales and conversion projected monthly performance. The submenus are shortcuts to analytics per month or per user-defined period.
---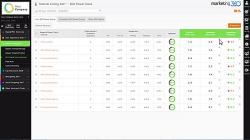 Next we have access to the Natural Listing Ads which serves as a base for content marketing, recapping Organic Listings, Keywords, SEO recommendations and basic Pages Stats.
 The first submenu shows existing organic listings with key stats such as CTR (click through rate) or PPC value (overall cost) as well as various graphics showing overall performance of each listing, and a basic "SEO power score" based on six parameters.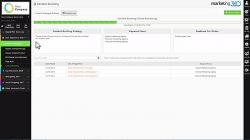 To conclude the Natural Listing Ads section, the Content Building menu is made to serve as keyword-driven online editorial calendar which may prove useful if you need to have your content written by third-parties or dedicated in-house employees.
---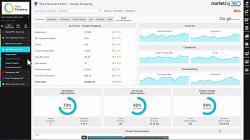 The Top Placement Ads section recaps pay-per-click campaigns for Google Search, Bing / Yahoo Search and Google Shopping. It also entails an Ad Fraud Protection section to help improve cost per click.
Besides running ads in Google, Yahoo and Bing from a central point, Marketing360 offers a keyword-based landing page help tool as well as SEO recommendations, and in-depth reporting & analytics.
---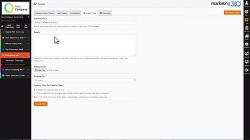 The Retargeting Ads section is a specific area where users can create, manage and follow remarketing campaigns for the given website.
The functions at hand are similar to those you'd find in other remarketing programs with in-depth analytics and proprietary integration into the Marketing360 CRM process, with ready-made banners and other ad formats to speed up the deployment process.
---
In Marketing360, Social Targeted Ads reproduces pretty much the same functions and stats as other sections, except this time it's centered on three social networks with PPC programs: Facebook, Twitter and Youtube.
More functions are available under the "Other Software & Tools" menu such as Conversion Inbox to track conversions, a task assignment tool, a  keyword research tool and MailChimp integration.
---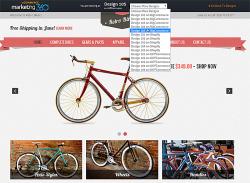 Marketing360's front-end relies on various third-party software to integrate e-commerce websites (BigCommerce, Shopify, UXi).
Integration between these proprietary content management systems is provided as additional service by Marketing360 experts.
None of these software solutions provide turnkey multi-sites management, which must be handled through Marketing360. The online platform claims to provide superior multi-location ecommerce management, however no evidence support this claim as this multi-sites integration has yet to be implemented besides existing customers such as pizza stores or sport franchises who use the same domain for all its web properties.
SeoSamba Marketing Software Review
SeoSamba Software Overview
All-in-one white label online marketing solution
Multi-sites web analytics, SEO and social execution
 Integrated white-label CMS & ecommerce front-end
SeoSamba was created over ten years ago by search engine optimization and information technology industry veterans who recognized the need for a scalable and automated SEO service platform in a rapidly maturing industry that thrives on the ever-increasing success of search engines.

Since then, the platform has evoluted to become a full-fledge online marketing platform integrating automated SEO, content marketing, PR & News distribution, social media and voice/SMS marketing.
---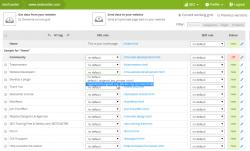 SeoSamba's online marketing platform SeoSamba Marketing Operating System is driven by a powerful multi-sites SEO automation engine, the only software on the market able to optimize thousands of pages and entire line of products across any number of websites, on the fly and within minutes.
Not only this can save countless hours of tedious work and untold amount of unnecessary expenses in handmade SEO efforts, but it also leverages the most cost effective marketing technique of this age: natural search engine listings.
The Optimization tools integrated by SeoSamba do not stop at analysis and recommendations like other software does. It goes well beyond by executing those recommendations and optimizing hundreds of SEO paramaters with a few clicks, effectively turning entire websites in collections of highly effective landing pages.
---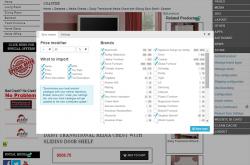 Each website is created, managed and updated through the open source CMS and Ecommerce software SeoToaster, a user-friendly content management system allowing inline WYSIWYG editing and full customization from core source code to front-end widgets.
For instance, in a multi-location business type of situation, individual locations or franchisees can benefit from the centralized automated SEO best practices, all the while customizing their own geolocalized SEO to maximize their presence in local search engines and resources.
And it also works when selling goods online thanks to our integrated shopping cart. Each location can also customize their offering by selecting which products and services they wish to carry within the centralized ecommerce catalog managed by the manufacturer, parent distributor or franchise owner.
---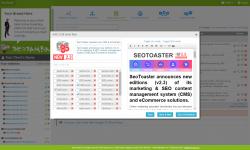 For content marketing, the News & PR module lets users easily create blogs posts, news and press releases that can be deployed on one or all SeoToaster-powered websites.
In addition, even non-SeoToaster sites can benefit from the Newsblaster service that distributes press releases to over 50 partnering syndication networks, and thousands of news publishers, local resources and specialized blogs. 
---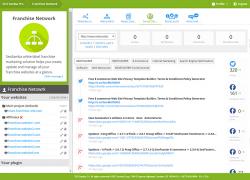 The brand new Social Dashboard lets you follow all interactions across all registered social accounts in one glimpse, while the Social Push tool gets short messages and updates propagated across all social networks in just a couple of clicks.
The Netcontent widget lets you push all types of content to all connected websites: P2P content and media, Call to Actions, cloud-based apps such as online chat and co-browsing, brand boilerplates, online forms or even entire Q&A sections, again in only few clicks.
---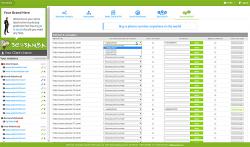 The lead tracking SMS and Voice cloud communication service integrated within SeoSamba's online marketing platform allows website owners to track incoming leads, be they phone calls or emails.
All calls are recorded and can be flagged to allow easy follow-up from the sales department, optimize conversions and further emphasize geolocalized SEO efforts, all for very reasonable setup and communication costs.
---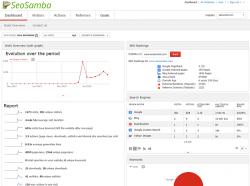 Web Analytics provide traffic data for one or multiple websites in one glance, with extensive analytics dashboards available with a single click for any given website.
SeoSamba also provides customized search engine reports, news and press releases PDF, and in-depth user profile data that can be used for email marketing, remarketing and ecommerce promotion purposes.
Marketing360 vs SeoSamba: features comparison summary
| | | |
| --- | --- | --- |
| Features | Marketing360 | SeoSamba |
| Multi-sites Admin | | |
| Subdomains Install | | |
| Network-wide System Auto-update | | |
| Turnkey White Label Marketing Dashboard | | |
| Turnkey Single Domains Install | | |
| Zero Plugin Functional Install | | |
| Geolocalized Cloud-based Instances | | |
| VPS Hosting | | |
| Cloud Sites Support | | |
| Pay-as-you-go Full Network Hosting | | |
| Integrated Front-end CMS Support | | |
| White-label Hosting Support Services | | |
| Expert Support by Software Maker | | |
| Multisites Ecommerce management | | |
| Sales & Ecommerce dashboard | | |
| Social Network management | | |
| Social Network monitoring | | |
| Search Engine Optimization | | |
| Automated multi-sites SEO | | |
| Mobile-ready web design | | |
| Real-time Chat integration | | |
| Network-wide Analytics | | |
| Automated Email Marketing | | |
| Networked Content & News | | |
| Open source core code | | |
| Free Themes & plugins | | |
| Low-cost development options | | |
| Plugins/Extensions Marketplace | | |
| Developer API | | |
| Turnkey white label front-end CMS | | |
| Separate local user & DB policies | | |
| Unique user sets per website | | |
| Inline CMS user management | | |
| Full automated email verification | | |
| Open Support Resources | | |
| Open Developers Resources / API | | |
| Free Website Themes / Templates | | |
| Plugins / Extension Marketplace | | |
| iCal Support | | |
| User Interface Localization | | |
| Franchisor's Site Package | | |
| Turnkey Franchisee's Site Auto-install | | |
| Localized Franchisee Websites | | |
Our decision: SeoSamba wins by a reasonable margin
Marketing360 is probably the most exhaustive centralized PPC management solution we have reviewed. The overall user interface presentation is modern and user-friendly, and logically organized so that web marketers can manage all their PPC campaigns from a single spot.
While not exactly revolutionary, Marketing360 offers many interesting features and a lot of well-designed graphics to present web analytics data. For inexperienced website owners and online marketers, this software covers all bases of paid marketing, from PPC to social ads, remarketing and email campaigns.
With such a well-crafted UI, this online platform could easily be the number one on the market - as it claims - IF only it actually covered all basis for online marketing.
While paid-for marketing is often a required part of a sound online marketing strategy, it is nowhere comparable to natural SEO in terms of cost-effectiveness. While the top 3 spots of organic search results grab over 80% of all traffic for any given key-phrase, the average paid-for listings - even when artificially placed on top of natural listings - attract in average less than 1% of that same traffic.
That is exactly why SeoSamba has put SEO and natural referencing at the core of its online marketing software. While Marketing360 only analyzes and recommends, SeoSamba goes well beyond with automated optimization of hundreds of SEO parameters across any number of pages and any number of websites.
With Marketing360, you're left scratching your head or spending enormous amounts of time and money to craft and manage paid-for online advertising which will bring in between 0.5% and 2% of total traffic for you target keywords.
With SeoSamba, you can optimize on the fly and in a matter of minutes any number of landing pages (in full compliance with search engines recommendations) to place countless free links on top of search engines results for your target keywords.
Not only that, but you can do so across any number of websites and out-of-the-box with SeoSamba, while Marketing360 will mostly require much customization and support to achieve similar results.
Marketing360 claims to be the "#1 franchise marketing platform in the world" but there is absolutely nothing to support this claim, and while we concede that it does a good job to manage paid-for advertising, it remains well below SeoSamba's capabilities in all other areas and for a much higher price.